Details
While we have been continuing lessons with Zoom, the migration back to the shop will begin. We plan to re-open on June 12th. Please read the attached documents. The main points are:
We plan to reopen according to CDC Guidelines and adhere to the Governor's Order. This will be done in the spirit and letter of the law. We are CLEAN, DISTANCED, and CAUTIOUS.
Please contact your instructor.
If you are not yet comfortable with this, on-line instruction can continue.
Return to the shop will begin with looking at your original time. I'm certain there will be some changes. Might as well do this all at once.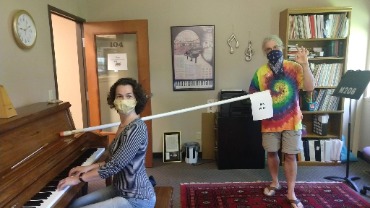 Re: Governor's Executive Order 2020-19
We intend to comply with both the spirit and letter of the law. The following bullet points will help you to understand where we are in this situation, and act as a guide towards your return to our facility. I begin by outlining why Milford Music Studios is indeed a safe place to return to.
· SPACE-We no longer have retail available to the public. This certainly cuts down on traffic. Conversion of our retail area to an extra waiting room provides additional space. The normal waiting area is also a bit roomier with spacing every few chairs. Many parents wait in cars, which is fine, but you are not restricted to this action. A highlight of our structural improvement includes the expansion of rooms 104 and 105. This is now one large room, having removed the dividing wall between them. This change gives us the ability to proudly say that we have correct social distancing in ALL of our teaching rooms. These are at least 2 or 3 times larger than most teaching studios.
· CLEANLINESS-Our building is routinely cleaned by professionals. In addition, we are conscious of wiping surfaces, having sanitizer available, and having access to hand washing.
· RESPONSIBILTY-Each instructor has taken upon themselves the discipline to stay well and be cautious of any slight symptom of Covid-19 in their constitution. Also, we have masks, shields, and the ability to stay 6 feet away.
· RESPECT-If you are uncomfortable returning at this time, on- line lessons can continue, and you may return at your discretion.
· DDA-The Highland DDA is working with local business to ensure a safe opening, and as a member, Milford Music will benefit from the information and supplies provided by the county.
This is where we stand. Please be in communication with your teacher to get "back on track" for meaningful live instruction. While being grateful for the technology that enabled us to continue lessons during this time of crisis, I know we (Students AND Teachers) are more appreciative of the quality experienced by LIVE MUSICAL INSTRUCTION. I remain a strong proponent of the idea that learning music is about more than just getting information. I think we will all return with a new perspective.