ABOUT
Success and longevity have marked the keyboard instruction career of Kathie Kifer for 23 years at Milford Music. "Miss Kathie's" students "stick to it" over a long period of time and finish as proficient pianists, having achieved the individual desired level of competency.
Kathie's experience includes being a Musical theater orchestra pit keyboardist (Joseph And His Amazing Technicolor Dreamcoat, Grease, Sound Of Music, Footloose, Company, Amahl and the Night Visitors, West side Story, Little Shop Of Horrors, Once Upon A Mattress, Hello Dolly, etc., countless solo and ensemble accompanying, church organist and pianist, accompanist for three national level concert choir tours, and multiple recording projects.
Kathie is an accomplished pianist, organist, and vocalist. Having grown up in Western Pennsylvania in a very musical family, Kathie began accompanying high school choirs, church choirs, and soloists at the age of 12. Kathie studied piano with Cynthia Posegate, Organist and Pianist of the Historic Hill Presbyterian Church, Pittsburg, Pennsylvania.
She also studied the organ with Gladys Reichard, American Organ Guild. As a church organist and pianist, Kathie composed and arranged all of her music. Kathie's solo organ CD, "Organ Majesty" is a collection of her favorite arrangements.


TEACHING PHILOSOPHY
Because of her versatility, Kathie quickly and efficiently adapts the week to week piano lessons to meet the unique learning styles of each student. As a result, students and parents find her incentive program perfect for motivating everyone to achieve success and enjoy doing it! Simply, her students love her and learn to love music through her.
PRICE
$25.00


AVAILABILITY: Tuesday and Friday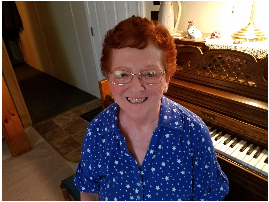 Contact Kathie Kifer
Call or Text: 734-646-7064
puppyadair@sbcglobal.net
or fill out the form below
Kathie's Testimonials!
"We have been students of Ms. Kathie Kifer for more than 12 years. We began taking piano lessons with her in kindergarten and first grade. Now as young adults, we are grateful that we had Ms. Kathie as our teacher. Her welcoming personality made us feel comfortable as young students. Ms. Kathie uses a point system with her younger students to incentivize progress. If the student accumulates enough points, they win a candy bar. This system effectively motivated us to practice when we were younger. Although Ms. Kathie is very effective at teaching children, older students will enjoy here positive and energetic personality. We could not be more satisfied with our progress over the years."

"Kathie's gentle, positive approach to encouraging her students to learn is excellent. Our boys have been taking lessons from Kathie for over a decade and they are both wonderful pianists. Neither of them has ever wanted to try another instructor. She has been able to relate to them at every age level. She teaches them & supports them to go beyond their comfort level to improve their performance. Also, she urges kids to learn songs by their favorite artists or genre, which keeps them engaged."
-- Jennifer & Dave Vella
"Kathie Kifer has been my daughter's piano teacher for over 2 years. We have been coming to Milford Music for quite some time now. My daughter bonded with Ms. Kathie. Kathie Kifer has a wealth of experience. She's very skilled and professional. She's gifted and passionate about music that it radiates in her style of teaching. She's very patient and encouraging, which brings out the best effort in Angelica. She's very thorough and adapts her teaching to cater for the need of the student. She's very personable and tries to get to know the whole family to better understand the student as an individual learner. Over all, we are very satisfied and very fortunate to have her as Angelica's piano teacher."
"For the last three years I have had the good fortune of working with Kathie Kifer as a piano teacher. When I started at Milford Music, I knew nothing about music and had never played a musical instrument a day in my life. The sheet music (notes and symbols) were Greek to me and I must say very intimidating. I have always enjoyed listening to music played on the piano and wanted to learn how to play but was convinced starting piano lessons as an adult was crazy and no piano teacher would be able to teach me the theory and techniques I was so interested in learning. All that began to change from the first time we sat down and I described my areas of interest - it became clear to me that Kathie had the knowledge, experience, and depth I needed in a teacher. Every lesson covered a technique, song or theory and the lessons began to motivate me to practice more and really think about the concepts. Kathie's approach during our lessons - relaxed, patient, flexible, and encouragement continues to propel me forward to learn and grow as a piano player. This positive dynamic has made the past three years an enjoyable experience and I always look forward to my next lesson."